The Greatest Slugger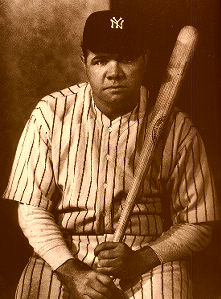 In 1920, Babe Ruth hit 54 homers, scored 158 runs, with 137 RBIs. He batted .376, hit 36 doubles, 9 triples, walked 148 times, and slugged a seamlingly unsurpassable .847 percentage, a single season record which Barry Bonds broke in 2001.
The following year, 1921, Ruth's slugging percentage was only one point lower at .846. Ruth hit 44 Ds, 16 triples, 59 homers, scored 177 runs, 171 RBIs and walked 144 times.
How awesome are these slugging numbers?
Listen Up! Mark McGwire, Sammy Sosa, and Ken Griffey, Jr., three of the greatest home run sluggers to ever play in the major leagues do not even approach Ruth's all-time slugging marks for a single season.
Baseball's Leaders in Slugging Percentage - Single Season:
Barry Bonds, 2001 SF Giants .863
Babe Ruth, 1920 Yankees .847
Babe Ruth, 1921 Yankees .846
Babe Ruth, 1927 Yankees .772
Lou Gehrig, 1923 Yankees.765
Babe Ruth, 1923 Yankees .764
Rogers Hornsby, 1925 Cardinals .756
Mark McGwire, 1998 Cardinals .752
Jimmy Foxx, 1932 Phil. A's . .749
Babe Ruth, 1924 Yankees .739
Babe Ruth, 1926 Yankees .737
Sammy Sosa, 2001 Cubs .737
Ted Williams, 1941 Red Sox .735
Babe Ruth, 1930 Yankees .732
Ted Williams, 1957 Red Sox .731
Top Active Players In Slugging Percentage: Single Season
Barry Bonds, 2001 SF Giants .863
Mark McGwire, 1998 Cardinals .752
Sammy Sosa, 2001 Cubs .737
Louis Gonzalez, 2001 Diamondbacks .688
Jason Giambi, 2001 A's .660
Sammy Sosa, 1998 Cubs .647
Ken Griffey, Jr, 1998 Mariners .611
Barry Bonds, 1998 Giants .609
View Babe Ruth Legends (Page 4: The Curse)