"Rapid Robert" - Bob Feller
Right-handed Pitcher; Cleveland Indians 1936-1956
In 1939, Feller went 24-9, while striking out 246 batters in 296 innings. "Rapid Bob" was 25-13 in 1941 and then spent the next four years in the Navy. In 1946 after his military service, Feller's fastball was clocked at 98.6 mph, "the fastest pitcher alive". On April 30, 1946, Feller's fastball was really hu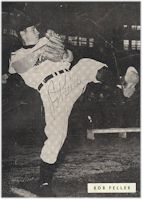 mming, as he pitched a no-hitter in Yankee Stadium before 37,144 stunned fans as the Indians beat the Yankees, 1-0. This duplicated his opening day feat of 1940 when he no-hit the Chicago White Sox by the same 1-0 score.
Bob Feller was 26-15 in 1946, including an outstanding ERA of 2.18, with 348 strikeouts along with a league leading 10 shutouts. In 1948, this great right-handed pitcher's 19 wins helped the Indians win the World Championship. His 13-3 record in 1954, helped the Indians win the pennant.
Bob Feller's career highlights include 2581 strikeouts; at the time the 3rd highest in baseball history. His record was 266 wins and only 162 loses, pct of .621. Bob Feller had a career ERA of 3.25; while starting 484 games and completed 279.