Sultan of Swat
Babe Ruth's career bating average of .342 is ninth highest in baseball history. When he died on August 16, 1948, Ruth held 56 Major League records plus 10 AL marks. The 'Babe' led the American League in home runs in 10 different years and tied for the lead in two other seasons.
Ruth's 1927 single season record of 60 home runs stood unsurpassed until Roger Maris hit 61 in 1961. Babe Ruth's lifetime record of 714 homers was not broken until Hank Aaron broke it in 1974.
Here's some eye-popping numbers from baseballhistorian.com Statistics Dept. - Babe Ruth's ratio of home runs to at bats is by far the best in baseball history. Babe Ruth batted 8,399 times while Aaron batted 12,364 times. Aaron hit 755 career homers, Ruth hit 714 in 3,965 less times at bat (Ruth batted 8,399 times). Babe Ruth walked 2213 times, (811 more times) than Aaron's 1402 walks.
When Babe Ruth hit 59 home runs in one year, 1922, and hit his 137th career record the same season, he surpassed the previous lifetime major league career record held by Roger Connor. Babe Ruth was the first player in history to hit over 30 homers in one season, the first to hit 40, 50 and 60.
When Babe Ruth became the first player to hit 700 career homers no one else had hit 300 career home runs.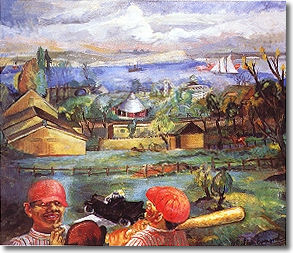 Early Youth of Babe Ruth, c. 1939
Painting by Philip Evergood
View Babe Ruth Legends (Page 3: Greatest Slugger)