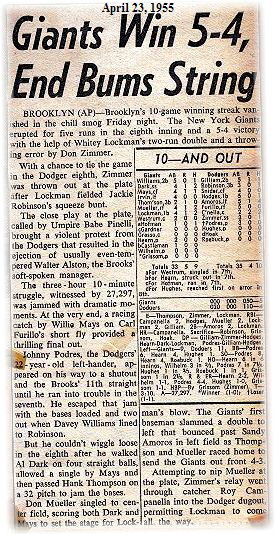 One of the leading pitchers of the 1950s, Johnny Podres won 148 major league games,however he's best remembered for his excellent pitching for the Brooklyn Dodgers in the 1955 World Series win over the New York Yankees. One of the 'Dodgers Boys of Summmer'
1953 Review -Backing it up a little, as a 21-year old rookie, Johnny Podres went 9-4 in 1953, completed 3 of 18 starts, plus 15 relief appearances to help the Dodgers win the NL pennant. In the 1953 World Series he was tagged for a upper deck, bases loaded home run by Yankee legend Mickey Mantle, the only World SEries game Johnny Podres would ever lose.
1955 - He got revenge as he pitched the Brooklyn Dodgers to its only World Championship in its 67 years of baseball. In GAme 3 Johnny Podres pitched a complete game 8-3 win over the New Yorkers, despite a solo homer by Mickey Mantle. Then, with the Series tied at 3 games to 3, Johnny Podres pitched a complete game 2-0 shutout for a Dodgers Championship. In the Series he had 10 strikeouts, and a 1.00 ERA.
After the game Podres said, 'When the game began I had the Yankees looking for my change up. I established early in the game that I was going to throw it, and then as the shadows of the evening began to come in, I went to my fastball and hard curve. In the last 4 or 5 innings, I threw only one change up, the last pitch of the game.'
Johnny Podres was named World Series MVP and Sportsman of the Year by Sports Illustrated.